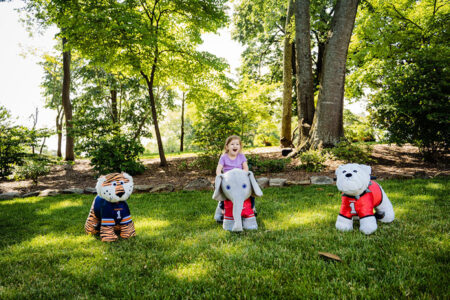 Port Wentworth GA, August 26th 2020 College Football is a national pastime and a very fan focused sport rivalry. With that time of year approaching this is a great way to share what Dynacraft BSC, Inc., a leader in the wheeled goods category has been up to for the last year. Heidi Schwartz from Universal Branding and Media, Dynacraft's licensing agent worked with Fermata Partners for the University of Georgia License and CLC for an additional 5 schools including University of Alabama, Auburn University, University of Arkansas, LSU and Clemson University to develop wheeled mascot ride-ons for young college fans. Each ride-on is officially licensed and comes complete with a popular approved fight song These mascot themed ride-ons will come alive and hit the shelves of Walmart and Walmart.com beginning August 2020. From the roar of the LSU Tiger to the bark of the Georgia Bulldog, young fans will ride into the season with smiles on their faces.
The preschool category continues to be a focus for Dynacraft so teaming up with top colleges in the electric ride on category compliments the company's robust licenses already at retail.
Years ago, Dynacraft tapped into the growing popularity of online ordering and the necessity for an e-commerce platform and set their plans in motion to expand their business with this positioning in mind. The white space in digital retail drove the company to readjust its focus and to separate itself from its competitors.
In 2019, Dynacraft announced that it was relocating its headquarters next to Crossgate Logistics in Savannah, Georgia. The partnership with Crossgate Logistics, a 3PL specialist, strategically located next to the Port of Savannah, was to continue pushing the envelope for automated and efficient fulfillment. Crossgate Logistics offers a state-of-the-art, fulfillment facility, and this partnership has allowed Dynacraft to become more agile in this every changing digital environment.
"With strong retail relationships and their pulse on innovation, Dynacraft will have a lot more exciting news to share" says Heidi from Universal Branding & Media.
Dynacraft BSC, Inc is the largest privately held distributor of bicycles, scooters and battery-powered ride-ons in the United States, available at major national and regional mass market retailers throughout the United States, Canada and Puerto Rico. Founded in 1984, our company was originally based in Ashland, Massachusetts selling our first bikes in 1985. Over 30 years and 77+ million units later, Dynacraft is the preeminent player in the wheeled goods industry, and the North American leader in the design and distribution of bikes, scooters and battery-powered ride-on toys.
Universal Branding & Media (UBM) is a leader in brand evolution, fully servicing its clients in the areas of retail management, consulting, consumer awareness and brand leveraging. Thorough research and an understanding of a brand's identity allow UBM to maximize its client's brand equity. From their extensive line of expertise in the marketing world to strategic licensing approaches, they take brands to the next level by connecting them to top of the line, globally recognized brands to ensure a reputation that consumers can learn to trust. Further information on UBM is available athttps://universalbrandmedia.com/.