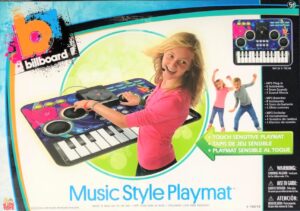 New York, NY, December 10, 2018 – Kidz Toyz, a leading innovator in children's toys, is pleased to announce a new license agreement for the U.S. and Canada with the Billboardr® brand for a full line of musical instruments. Kidz Toyz will embrace the heritage of the Billboard brand that parents and consumers have listened to and enjoyed across multiple generations. Every musical talent knows how prestigious being on the Billboard charts is and now we can introduce younger consumers to this 125 year old brand where they can jam and be part of this iconic legacy.
Featuring colorful designs and a contemporary designed logo created by Kidz Toyz the Billboard brand will enter the toy aisle Spring 2019 with a full product line ranging from toy music mixers, guitars, drum-sets, and keyboards. This fun and functional product will encourage children to band together and create a creative element to indoor role play. "We are thrilled to team up with the Billboard brand as it will be a fresh addition to our current product line with its strong consumer awareness and strong roots in the music industry at retail," says Ken Lewis, C.E.O. Kidz Toyz.
Universal Branding and Media, an independent licensing agency, brokered this partnership on behalf of Kidz Toyz and is extremely excited to see the company add such a strong brand to one of its top product categories. "We're delighted to have worked with Kidz Toyz to facilitate this agreement with Billboard. Kidz Toyz has such a rich history in creating iconic toys for children, and it's their commitment to innovation that allows us to partner them with some of the leading brands in the market today," says Heidi Schwartz, VP Business Development, Universal Branding & Media.
"We are thrilled to be extending the Billboard brand into musical toys. We're hoping this collection will foster an early love of music and inspire the next generation of artists." said Kelly Del Sordi, Licensing Director for Billboard. "Kidz Toyz have been wonderful and enthusiastic partners and we are pleased to be partnering with them on this exciting category launch."
ABOUT BILLBOARD MEDIA GROUP:
Billboard is the world's largest voice in music, built on the most complete and well-respected database of charts across all music genres. The Billboard charts define success in music. From the iconic Billboard magazine to Billboard.com, the ultimate consumer-facing destination for millions of passionate music fans, to the industry's most elite conference series and influencer events including the Power 100 and Women in Music – the Billboard brand has unmatched authority among fans, artists and the industry alike. Billboard has a social media footprint of 25.5M+ million social followers across Facebook, Twitter, Instagram, and YouTube, and creates more than 160M+ cross-platform video views per month. Billboard magazine has published major news-generating covers recently including Travis Scott, Zayn, Janet Jackson, Lil Wayne, Demi Lovato, Cardi B, Christina Aguilera, Eminem, DJ Khaled, Shakira, BTS, and an open letter to Congress signed by 180+ of the music industry's biggest stars and executives. In December 2017, the Billboard Women in Music ceremony, which honored Selena Gomez as Woman of the Year, was live-streamed globally on Twitter.
In 2016, The Hollywood Reporter-Billboard Media Group acquired Spin Media's storied music assets Spin, Vibe, and Stereogum, establishing the world's largest music brand by digital traffic, social reach, and audience share. The combined entity of music and entertainment properties now reaches 41 Million + unique visitors and more than 20% of U.S. millennials.
About Kidz Toyz
Kidz Toyz is an innovator of quality toys for over 25 years, specializing in toys that are safe, fun and intelligent. In addition to manufacturing its own products, Kidz Toyz holds license agreements with top brands like Peppa Pig and Mossy Oak. Kidz Toyz is a privately owned company with offices and showrooms in Connecticut and Hong Kong.
About Universal Branding & Media
Universal Branding & Media is a leader in licensing acquisition and consultation, with unparalleled experience and expertise connecting quality manufacturers with world-class brands. We are a strategic partner in our clients' evolution, creating successful partnerships between licensors and licensees that drive increased reach, revenue, and results.