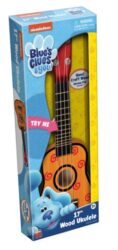 New York City, NY, October 6, 2020 – What's better than Blue and Josh making music on the hit Nickelodeon show, Blue's Clues & You!? Children making music along with them. Nickelodeon and Kidz Toyz HK have partnered to create fun-filled music with keyboards, drum sets, ukuleles, and the famous guitar that Josh plays in every episode.
Kidz Toyz HK Ltd., will be launching this full line of interactive, wood and electronic musical instruments highlighting the popular preschool property in the second half of 2021. Pre-schoolers will have fun creating excitement with a variety of instruments full of sounds and interactivity including the all too familiar theme song from the hit
show. The musical assortment will emphasize the fun that Blue and her friends inspire, and will be filled with character graphics all fans recognize. "We are so proud to partner with ViacomCBS, Nickelodeon and Blue's Clues & You! to bring to market a musical product line that is in tune with the show," says Ken Lewis, CEO Kidz Toyz HK Ltd.
Universal Branding and Media (UBM) brokered this partnership on behalf of Kidz Toyz HK Ltd., and is extremely excited to see how the instruments will come to life says Heidi Schwartz, VP of Business Development for UBM.
Kidz Toyz, Inc. has been an innovator of quality toys that are safe, fun and intelligent, for over 25 years because kidz like toyz. In addition to manufacturing their own products, Kidz Toyz has licensing partnerships with top brands like Peppa Pig, Ricky Zoom, Billboard and Mossy Oak. Kidz Toyz is privately owned with offices and showrooms in Connecticut and Hong Kong. www.kidztoyz.com
Universal Branding & Media is a leader in licensing acquisition and consultation, with unparalleled experience and expertise connecting quality manufacturers with world-class brands. They are a strategic partner in their clients' evolution, creating successful partnerships between licensors and licensees that drive increased reach, revenue, and results. www.universalbrandmedia.com